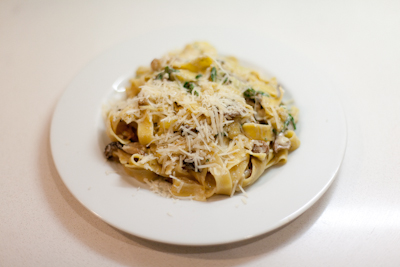 In keeping with our Meat – Free Day, and making up for yesterdays steak. Today's dish is this delightful number.
This is not the first time I've cooked it, it was one of the few I cooked from the app when I first bought it, pre challenge days and it has remained a perennial favourite.
Mushrooms are a great substitute for meat and this dish really mixes it up, literally. In my case a mix of shitake, porcini, enoki & giant oyster, all adding subtle textural differences.
In my previous post on the Bacon and asparagus pappardelle I remarked on how hard it was to find pappardelle, I've since found a source, which made cooking this dish easy and somewhat authentic, though someday I'll have to man up and try my hand at making my own pasta.
It is delightfully simple to prepare and certainly 20 minute worthy, tastes fantastic and is highly recommended if you have the app.