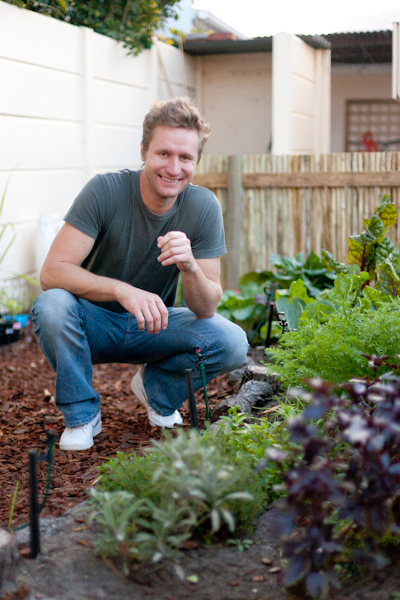 If you follow me on Twitter you'll know I talk a lot about about sourcing local, free-range & ethical foods. I believe we have a right to know where our food comes from, how it's grown or raised and the quality of life it led.
My shift started with growing my own vegetables and herbs, first in a raised bed, then an allotment and recently my garden, in which I now grow 40+ different vegetables and herbs at home.
I grew tired of buying picture perfect food sold in supermarkets, devoid of blemishes, uniform in shape, colour and taste. These can only be attained by human intervention be it in the way of fertilizers, pesticides, herbicides and/or 'unnatural' growing methods that agribusiness use.
It's changed the way my family eats and lives, not only in knowing where our food comes from and what goes into it but also in planning meals, eating seasonally and basing them on the contents of our food garden.
I'm not 100% self-sufficient and do need to supplement my vegetable intake, but I've chosen to support local farmers markets and organic suppliers where possible/practical over supermarkets.
I'm blessed to live in an amazingly progressive city, Cape Town, and we have markets several days a week. One of my personal favourites for convenience and selection is The EarthFair Market in Tokai, open Wednesday nights 3pm-8pm and Saturday mornings 9am-2pm. They've recently opened a market on Thursdays in the CBD and it runs 11am-5pm in St Georges Mall. Outside of fresh produce they also play host to a plethora of culinary artisans.
Then of course there is the Saturday morning staple, The Neighbourhood Goods Market at The Old Biscuit Mill in Woodstock, which runs from 9am-2pm.
One of my highlights and the gem of The Neighbourhood Goods Market is The Drift Farm. Winners of this years Eat In Awards for 'Best Small Producer – Earth'.
Based in Napier they are certified organic and offer a wonderful collection of old world heirloom vegetables handed down from gardener to gardener over the generations. I spent time Jason and Louise over the weekend at Taste of Cape Town and you can't help but soak up their positive energy and passion and I look forward to visiting the farm in person.
I decided to invite my good friend and chef to the stars, Neill Anthony around for lunch with a twist, we needed to focus our efforts on eating out of my garden where possible and trace the route of our produce from Farm-to-Fork.
I sent Neill a list of seasonal produce I had on hand and he came up with a 3-course meal that we shared together as we pondered the provenance of the dishes.
Neill's starter was Steak Tartate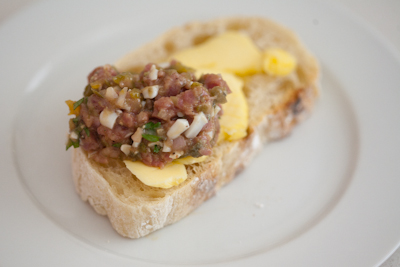 The key to a great Steak Tartate is of course the steak, eaten raw. Typically fillet is the cut of choice. My preferred supplier of free-range meats is GoGo's Deli (021 671-0573) in Newlands as they cover the staples like beef, lamb and chicken and the more 'out there' like rabbit and goat. Sadly they were out of stock of beef on the day and I shot over to Super Meat Market (021 797 5595) in Kenilworth, an equally great source of ethical meat.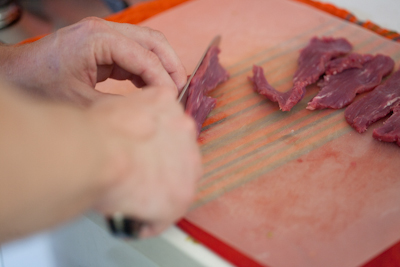 Neill has graciously put the recipe up for this super dish up on his blog, which can be found here.
Next up was exotic mushrooms and white beans with sautéed beetroot leaves, crotin, coppa topped with a sauce soubise (white onion sauce).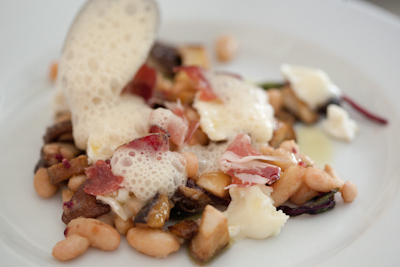 Gone are the days of being limited to white or brown button mushrooms as you can now buy great varieties like oyster, shiitake and enoki, even in supermarkets through companies like Nouvelle Mushrooms, so experiment as each has a unique texture and taste which can reinvent even the most classic of dishes.
My first choice for fresh mushrooms is Heike's All Manna of Mushrooms with weekend stalls at both Willowbridge and Stellenbosch Slow Markets.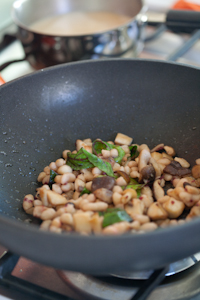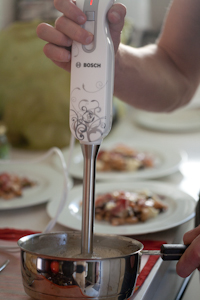 My favourite source of cured meats is Richard Bosman. Richard oozes passion and only uses pasture reared, ethically raised pigs. His artisanal cuts are amazing and he offers a wide range including Bressola, Coppa, Prosciutto, Salami even Bacon. You can purchase these through the Melissa's chain of deli's.
Last up was a grilled chicken breast filled with an aubergine and olive pesto and served with a homegrown ratatouille.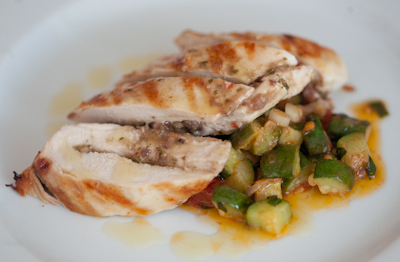 Chicken is a staple in our home and these days finding free-range chickens is much easier than finding beef or pork. We use Elgin Free Range Chickens which are available at Pick 'n Pay's country wide.

Now you can quite easily make your own pesto but both Neill & I have come to love both the taste and convenience of using The Pesto Princess range of artisanal pestos which can be bought at most retail stores.

The ratatouille along with the herbs and spinach in the other dishes were right out of my food garden, where Neill can be seen in the opening photograph.

So there you have it, a wonderful 3-course meal shared amongst friends contemplating where it came from over a bottle of wine. My hope is that you might start thinking about your own food and how and where it was raised/grown and start supporting local farmers and artisans.

15 Comments to