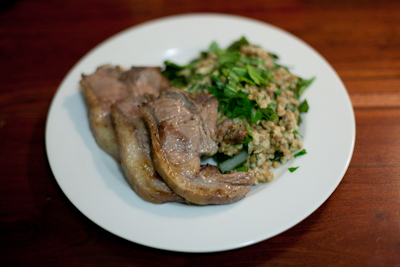 Since I have to prepare a few dessert dishes I thought I'd tackle both a mains and dessert dish tonight.
I popped into Pick 'n Pay this afternoon and picked up the ingredients for both dishes, the most perplexing part was working out what cut of lamb to go with as honestly lamb has never been my favourite meat, I'm not sure why, it just isn't something I gravitated towards.
I found myself unprepared for the feast of cuts that lay in store and ended up settling with lamb loin chops, quite honestly because they looked the closest to the cuts in the photo of the prepared meal in the application…
The recipe was unclear on what exactly 'spring greens' were, but based on the photo swish chard seemed to be the safest bet, but I got more than I bargained for… inside my sealed bag of chard was a nice adult, and very much alive slug, I affectionately named 'Harold', partnered with him in the said bag was an obscure guinea fowl feather… I kid you not!
My stove is as unpredictable as the Cape Town weather (anyone else surprised to see we didn't get rain as promised?) and on first try I managed to burn my garlic cloves… GRRR… round 2 was much better and I proceeded to make the herby lentils, which were divine.
My aversion to lamb aside, I'd quite comfortably make a double dose of them as a mains.
Right mains done, both participants (my wife and I) duly satisfied… next up… dessert…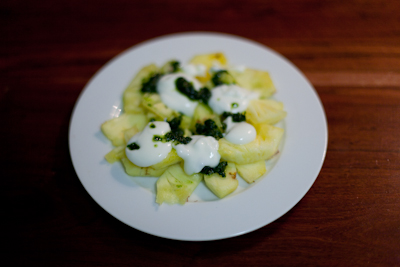 Ok, so I thought I'd ease into it, pineapple and mint, doesn't sound too hard, splash of yogurt, easy… and it was, the difficult part was preparing the pineapple!

Now I'm not proud to admit this, but pineapple is normally my wife's doing… I don't have the patience for spiky fruit, so on the rare occasion we have it, she prepares it, but it would defeat the purpose of my challenge if she did…

Long story short, I made it though relatively unscathed, through my wrist had a workout removing all the black bits, though maybe I just got a lemon of a pineapple, either way it tasted great.

All in all a successful venture and I'll seriously will be adding the herby lentils, dressed greens and the pineapple to my favs list.

[ad name="General Adsense"]

4 Comments to