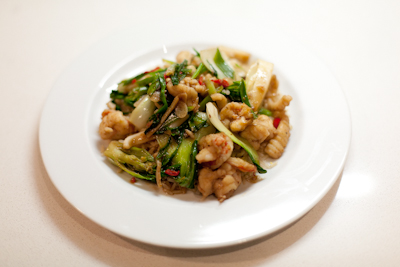 Well I did it, 60 new recipes in under 3 months, drawing to a close my Jamie Oliver '20 minute meals' challenge.
I'm going to spend some time this week reflecting more on my experiences though a series of posts including naming my top 10 recipes, what I've learnt and not learn, what's next etc… but for now, here are the last 2 dishes.
The seafood moniker of being quick certainly lives up its name and is probably one of the fasted I've ever whipped up. The hardest part was locating the Asian staple, Bok Choy. It used to be found with relative ease at Pick 'n Pay, but I've not seen it for some time.
I eventually sourced some at Mainland China in Claremont, a maze of row upon row of shelves stocked with Asian goodies, ranging from green tea to glassware and everything in-between. The king prawns and squid were courtesy of Gary at The little fisherman, my fish monger of choice.
After blanching and dicing the bok choy I quickly stir fried the five spice powder seasoned seafood, added in some fresh red chilli, garlic and ginger, the bok choy and splash of soy sauce, served atop lemon infused rice.
I decided to end off the evening with my last dish, sweet French toast with marmalade sauce.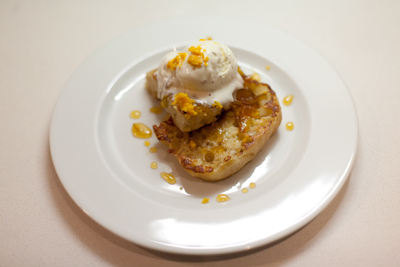 This dessert turns a traditional breakfast into a deliciously simple pudding, and probably about the only way I can get my wife to eat Seville marmalade.

The bread is soaked in an eggy batter of castor sugar, vanilla & cream before being pan fried, drizzled with a reduced marmalade sauce and topped with ice cream and orange zest.

All in all a fine nights dinning and great way to see out the weekend, which incidentally saw my wife and I celebrating our 6th wedding anniversary, so milestones on all fronts.

6 Comments to