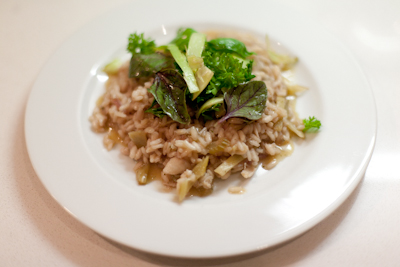 I've got to be honest, this is probably one of my least favourite meals in this challenge.
Though I must admit that I have a personal bias against crab, so you need to take it with a pinch of salt, which not surprisingly also happens to be one of the ingredients.
As with all risottos it isn't the quickest of 20 minute meals, bordering on being closer to a 30 minute meal, with the prep time, esp. if like me, you have to deshell the crab.
Outside of that the meal is fairly simple to put together, your standard risotto base with the added crab and fresh fennel slivers and makes for a fragrant seafood dish.