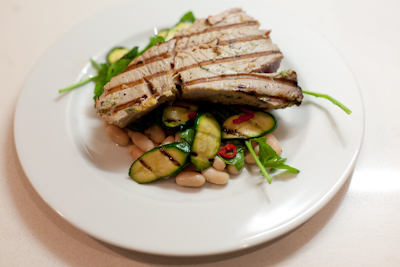 Fanflippingtastic! I know it isn't a real word, but it best describes this meal. Truthfully it blindsided me. I expected a solid wholesome meal, but it was so much more…
It is certainly 20 minute worthy and cinch to prepare with just a handful of ingredients, perfectly selected to bring about amazing textures and tastes.
Surprisingly at Neill Anthony's masterclass he used beans as a starch for his salmon dish, this dish does likewise and I've found a new found appreciation for them.
I returned to Gary at The little fisherman for my fish, using yellowfin tuna, which pole caught, is classed as a sustainable fish by SASSI.
The fish is marinaded in a simple marinade of crushed fresh origanum, salt, olive oil and lemon zest and served on a bed of beans, grilled courgettes and rocket and garnished with fresh red chilli.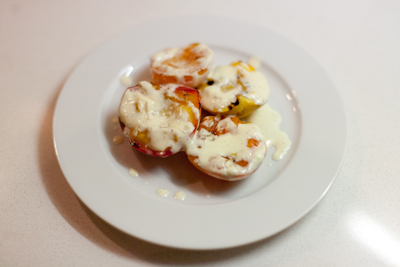 I decided to follow it with a dessert of grilled fruit topped with lime crème fraiche. I tried to use seasonal fruit and was able to get all but the fresh figs and a lime, though I had lime juice handy and replaced the lime zest with lemon zest.

Sadly the picture doesn't do it justice as I had to replate to take the pic and the lime crème fraiche covered the beautiful grill lines of the fruit, make no mistake though, while it might not look that advertising, it most certainly was.

One Comment to