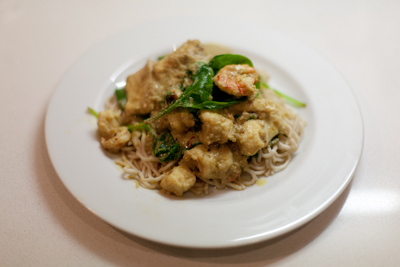 Well much like Discovery's 'Shark Week', the next 2 weeks will affectionately known as 'Fish Week'.
The reason is that it took me quite some time to find a decent fish monger, leaving me with a bunch of fish dishes to deal with in my challenge.
I've mentioned before that I've been using Fish4Africa, and I can't fault them, they are just a little out of my way.
This past weekend I had the wonderful privilege of attending a masterclass with chef Neill Anthony. Neill worked in the kitchens of both Gordon Ramsey & Marcus Wareing in the UK.
I'm not going to delve much into the class itself, but rather refer you to 2 wonderful articles written by fellow food bloggers Jane-Anne Hobbs and Sam Linsell, whose pics and prose are better than my own.
One of the tips I culled from Neill were the details of a newish fish monger/shop called The little fisherman in Constantia, owned by Gary, a delightful guy whose service is on par with having the freshest fish in town.
This particular recipe called for monkfish and snapper, as you know I feel strongly about eating local and sustainable fish and so I swapped these out for kingklip and yellowtail. I also left with some BEAUTIFUL fresh king prawns, some crab and fresh mussels for upcoming dishes and I'm expecting a call later in the the week when he gets in some yellowfin tuna.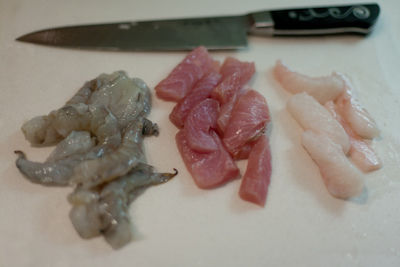 Mustard seeds, curry leaves and cumin seeds were also in order, this of course meant paying a visit to the lovely Cape Spice Emporium, which is always a treat.
The meal itself is certainly 20 minute worthy and quite delicious, I must say I had reservations about it, but after the first mouthful my apprehension subsided and we enjoyed the meal over a fresh glass of pineapple juice.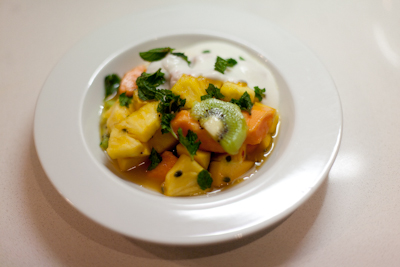 Speaking of pineapples, I decided to keep up the tropical flavours by making Jamie's tropical fruit salad, again a few exceptions had to be made, wanting to use local in season fruit, which meant replacing the mango with some cling peaches, a fair compromise.
The various fruits are drenched in a brown sugary syrup infused with red chillies, served with yogurt and topped with fresh mint… the recipe serves 4… it was devoured by 2… I'm not proud to admit it, but gosh it was good!
All in all a fantastic evening of dinning and a great way to round up my 50th recipe, I can smell victory, it's that close!