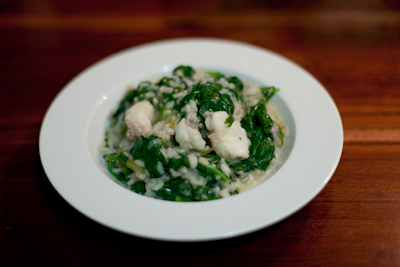 Monkfish, hmm? Is it sustainable? Well according to the latest SASSI guide it is listed as 'orange', which means 'think twice', though according the fisheries department they have sustainability projects under way.
To aid in this endevour I refused to buy it frozen and asked my local fish monger to keep an eye out for me as he said every so often they line catch them when out fishing for deeper sea fish like hake. Doing so confirms that it is line caught, caught out of our own ocean and supports local fisherman and their family business, who knows where much of the frozen stuff comes from or how it is caught.
A couple weeks passed and out of the blue Leonard called and told me to hurry on down as they had caught a couple and reserved one for me. Talk about service and quite literally living off the land… ummm, I mean sea, thanks Fish 4 Africa!
That brings me to another point, BUY FRESH FISH! I know for some it is hard, but try find a reputable source and make friends with your local fish monger. Fish should never have 'glassy' eyes when you buy it or even a hint of 'fishy' smell about it, fresh fish is almost odourless. Buy what you want, when you want it, it tastes better and you don't end up wasting it, plus a fish monger can help you prepare it for you if you don't fancy descaling and filleting it yourself.
Right, so the meal. Again, as with some of the other recipes I'm not sure I would have ever gravitated to this, had it appeared on a menu. I'm a little less adventurous than most, though after cooking my way through this app I'm beginning to be somewhat fearless.
Risottos can't be rushed, you just take your time and wait it out. So it doesn't quite crack the 20 minute nod on cooking time, but the preparation time is minimal and so it wins brownie points in that department.
Overall a hearty, tasty dish that is easy to prepare and serve.