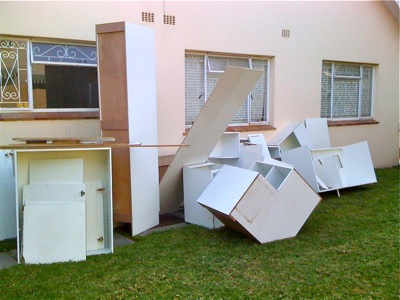 .
As shared I'm getting a new kitchen, which I'm incredibly excited about, what I'm not so excited about is dealing with the aftermath of demolition. That said the crew responsible, under the guidance of Jack Atmore, have been fantastic.
Day 1, within an hour the old kitchen was stripped and the guys got straight on to removing the old tiles.
What became of the old kitchen? Well some of it was easy to remove and is very good nick, from those bits I was able to build a smaller 'bachelor' style kitchen for my housekeeper, who also lay claim to the old stove and the kitchen sink, and I don't mean that proverbially. Sadly the rest had to be scrapped and the rumble shipped off to the dump.
We laid claim to what we could reuse, the door handles on both the cupboards and doors for example, which will be given a 2nd life in the new kitchen. Not only is it a fair cost saving, it also just helps to reduce and reuse where possible.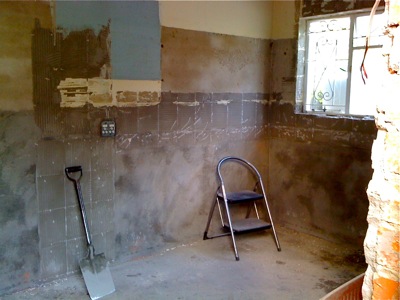 At the end of Day 1 this is what the kitchen looked like, old cupboards out, tiles off the walls and the room cleaned out/up for Day 2.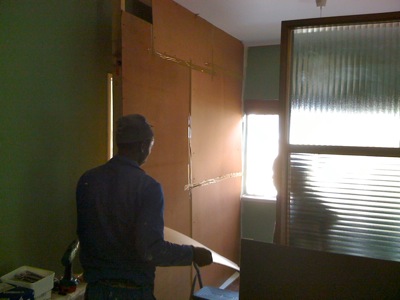 Day 2 started with us erecting an enclosed frame inside of the house, this was to minimize the dust and damage, and well worth the investment, both in time and additional money. It has held fast and been doing a great job.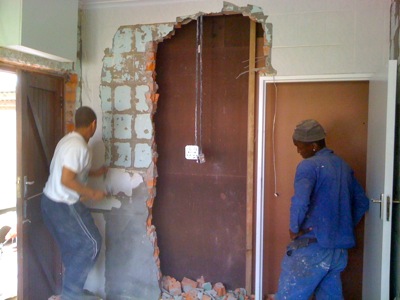 Once the structure was in place the guys proceeded to take down the kitchen wall. The new kitchen is going to be open plan with a breakfast bar where the wall used to be, which is going to open up the place alot and be far more functional, something my wife has been wanting to do since we bought the place 2 years ago. By the close of Day 2 the wall was out, bar the door frame and we were ready for Day 3 to role on.
Day 3 started with clearing out the rumble that had amassed after removing the wall and just cleaning up the the site as we were beginning to not be able to see the bricks from the wall (reminded of a Pink Floyd song right now).
With that out of the way the chasing began, cutting in cavities for the new electrics and also chipping all the cement off the walls, getting them as smooth as possible for plastering.
Colin Hinds from Rock on Wood, who are fitting the new kitchen, popped in to check on the building progress and to measure up one last time. The kitchen units will arrive next Friday, the 22nd and fitting will start on Monday 25th, though it will be a week until the Technistone counter top are fitted.
At close of play the kitchen looked like this.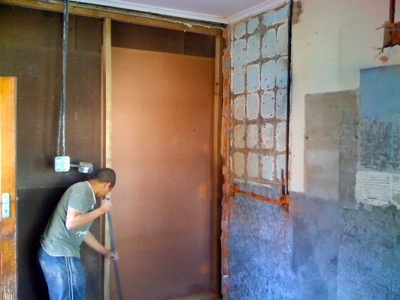 As I type this on Day 4 the guys are removing the old door frame, as the new kitchen necessitates reversing the door to open outwards and the conduits are going into the electric cavities, which the plasterer gets to work on, making good the walls and other surfaces.

2 Comments to