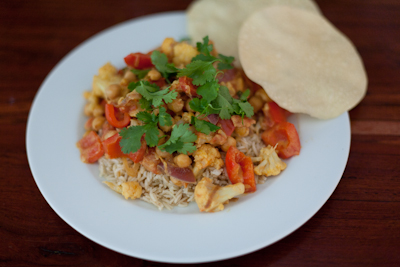 In keeping with our Meat – Free Day philosophy, tonight's dinner is a beautiful vegetable jalfrezi.
I have a new found admiration for Indian food, while people flock to Italian and French Cuisine, Indian really has to be one of the most well thought out and carefully crafted of the global foods, each spice adding subtle hints of flavour.
This jalfrezi was no different, though the only difference here was my inability to source a Jalfrezi paste! So when in doubt, make it yourself, and it was surprisingly easy. The recipe I used was put forward by a Jamie Oliver Forum member by the name of GeoffP and it is as follows:
Ingredients
2 cloves garlic chopped
1 tablespoons grated fresh ginger
1 onion finely grated
1 tablespoon of tomato puree
3 teaspoons ground turmeric
1 teaspoon red chilli powder
1 teaspoon salt
3 teaspoons ground cumin
3 teaspoons ground coriander
30g ghee or 2 tablespoons oil
Instructions:
1. In a food processor or mortar & pestle, whiz up or pound together everything except the ghee or oil.
2. In a wok or heavy based saucepan, heat the ghee or oil, and fry the paste until it goes brown and smells aromatic.
3. You can use the paste straight away, or save it in a jar in the fridge for later.
It seemed overkill for the meager 1/2 tablespoon I needed, but no shortcuts allowed…
It took a little longer the 20 minutes allocated, but the results were superb with my wife rating it as the finest 'curry' I've made yet, and there will be more… many more…