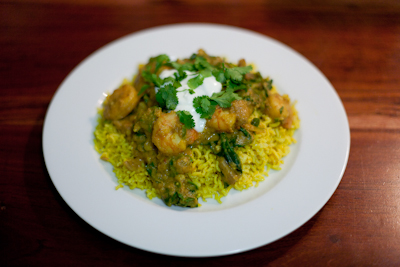 Well this is a milestone, with recipe #15 comes the acknowledgment that I'm officially one quarter of the way through my challenge. I'm making good time as it averages out at a recipe a day since I officially started September 1st.
Sadly though this particular meal was probably my least favourite to date. Don't get me wrong, it was very interesting, I'd just not be in a hurry to make it again anytime soon.
I enjoy a curry as much as someone who enjoys curry does (I grew up in Durban, it was part of my childhood heritage!), but the effort required to make this meal, to my taste buds, doesn't add up.
It is a 20 minute(ish) meal, but you need a game plan, having all your ingredients ready to go, and there a quite a few. No room to cop out, you literally make the curry paste from scratch with a selection of fragrant spices and herbs.
I ended up substituted the baby spinach for swiss chard, since I had some left over, but in retrospect I should have blanched it as it was a little on the crunchy side.
I love seafood, in particular prawns and LOVED the Garlic prawns and herby lentils dish I made last week, but something here didn't gel for me.
The curry itself was fragrant & fresh, but didn't contrast well with the prawns, maybe if chicken were used I'd feel differently.
Overall it was a decent dish, but again not one I'd be in a hurry to make again.