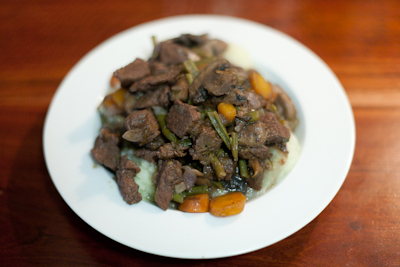 Well Friday is here and I decided to base tonight's meal on the contents of my fridge… simple enough!
I had a bunch of vegetables that were surplus to requirement from previous meals prepared during the week governing what I was going to cook and I decided to try my hand at making a beef stew.
I found a couple variations on the net and decided to adapt one to my ingredients and portion size and was pleasantly surprised with the results (as seen above).
If anyone would like to try it below are the ingredients and instructions.
Ingredients:
500g goulash beef
2 cloves garlic, chopped
1 spring onion, chopped
1 medium red onion, chopped
1 large tomato, peeled, seeded, and chopped
1 cup of sliced carrots
1 cup cups sliced mushrooms
1 cup of green beans
1 teaspoon chopped fresh thyme
1 bay leaf
1 tablespoon roughly chopped parsley
1 cup of vegetable stock
1 cup dry red wine
2 tablespoons butter
splash of brandy
4 large potatoes
1 tablespoon of wasabi paste
1/2 cup of milk
salt and fresh pepper to taste
Step 1: Preheat your oven/warmer draw and place your bowls inside to warm.
Step 2: Place a pot on medium heat and add 1 tablespoon of butter and saute the beef till browned, pour off the excess fat and place the meat back in the pot.
Step 3: Add a splash of brandy to the meat then add the garlic, onions, tomato, thyme, bay leaf and parsley. Add salt and pepper to taste, give it a good stir and then add in the stock and wine.
Step 4: Bring to the boil then reduce heat, cover with a lid and let simmer for 40-45 minutes.
Step 5: While the stew is cooking place the carrots and beans in a pot of boiling water and cook for 5-10 minutes until tender, drain and add to the stew.
Step 6: Melt 1 tablespoon of butter into a hot pan and saute the mushrooms for 2-3 minutes, drain, then add to the stew.
Step 7: While the stew is simmering cut the potatoes into even sized pieces and add to a pot of boiling water, cook for 15-20 minutes, drain, then add them back into the pot and mash, adding the milk and wasabi paste, then serve.
It tasted great, just enough Wasabi to let you know it was there, not enough to send you screaming for the nearest pack of tissues.
The wine was a treat, a bottle of Wegelin 2005 Shiraz, from a small farm out near Wellington who made a few bottles available to friends and family.