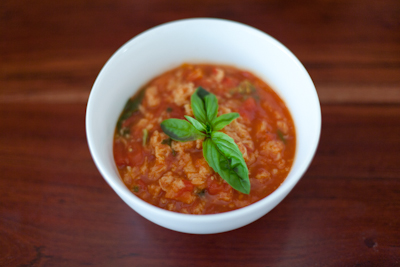 Today, in following on from the tradition I started last week, is 'Meat-free Day', making it the perfect day to enjoy this simple soup as I'm a sucker for basil and tomatoes.
The meal is SIMPLE to prepare, requires a handful of ingredients and is definitely a 20 minute meal, so 2 thumbs up there.
My mother-in-law popped in to visit our little man and became an unwitting participant in joining us for lunch, she was suitably impressed and hopefully it reaffirms I can take care of her daughter, LOL.
My wife still prefers the 'Pea soup' I made last week, I'm on the fence, both were great, but for different reasons.
[ad name="General Adsense"]