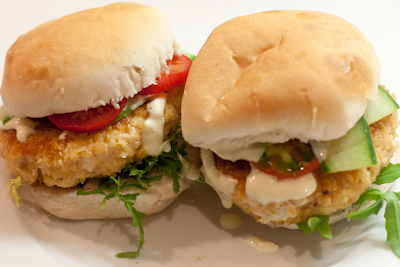 Alida Ryder is soooo much more than a cook. She's a wife and wonderful Mom to twins and we exchange as many tweets about child rearing as food ones and have been known to 'overshare' these aspects.
Alida's lovely blog Simply Delicious walked away with not one, but 2 awards at last years SA Blog Awards with 'Best New Blog' as well as 'Best Food & Wine Blog'.
I'm honoured to call her 'friend' and thank her for giving up this recipe.
In her words…
I have had this incredible craving for good, home-made chicken burgers for quite a while now. Why, I don't know as I've never had a home-made chicken burger before. At one of my favourite fast food places (don't judge me) they sell spicy crispy chicken burgers and I don't care what you think of me after saying this, but I could eat those all day, everyday. I love how the soft breadroll is contrasted by the incredibly crispy chicken burger and the tangy mayo lingers in your mouth just long enough. *drool*
But being on a bit of a health quest lately, I knew I couldn't go out and buy one of these burgers and so, I decided to make them myself. I couldn't find chicken mince yesterday so I bought fresh, plump chicken breasts and pulsed them in my food processor. The result was chunkier than chicken mince but actually so much better. I was so impressed that I promised to try mincing my own meat from now on…whether I'll keep that promise is another story.
Another problem was that I really didn't want to have to deep fry or leave the burgers in oil for longer then 2-3 minutes. But then they wouldn't be cooked. So I resorted to frying them in INCREDIBLY hot oil to get the brown, crispy coating and then I popped them into the oven to cook through. They were incredibly moist and juicy but not at all oily, which is exactly what I wanted.
Once again, I made my own mayo but I added 2 cloves of garlic this time which turns it into a deliciously silky Aioli. Just saying it makes me happy..come on..say it…Aii-oooolliii. NJAM!!
I served the burgers with roasted sweet potato chips and some fresh cucumber and it was a complete hit. My family loved it and I will definitely be making this again.
Serves 4
600g chicken breasts / chicken mince
1 cup fresh breadcrumbs
1 large egg
1tsp paprika
1tsp salt
2 chillies, finely chopped (optional)
black pepper to taste
2 cups fresh breadcrumbs
2 large eggs, beaten
1 cup flour mixed with 1tsp salt
Fresh breadrolls
peeled and sliced cucumber
fresh lettuce
To make the chicken patties, pulse the chicken breasts in your food processor. Make sure that you don't leave the food processor running as the chicken will just become a puree.
Mix the chicken with 1 cup breadcrumbs, egg, paprika, salt, chillies and pepper. Form patties with your hands and place on plate/tray lined with wax paper. Refrigerate for 30 minutes.
Coat the burgers first with the seasoned flour, then dip into the beaten egg and coat in the bread crumbs. Fry in very hot oil for 1-2 minutes a side until the breadcrums are crisp and golden. Place in a roasting tray and place in a 180°c oven for 15-20 minutes until the burgers are cooked all the way through.
Serve on fresh breadrolls with cucumber, lettuce and aioli.
For the Mayo / Aioli
I make my mayo in a food processor but I've also done it with a hand blender in a tall container and it works very well.
2 large egg yolks
1tsp Dijon mustard
2tsp vinegar
1tbsn lemon juice
salt to taste
250ml – 300ml oil (I used canola)
2 cloves garlic (you could also add herbs or chillies to add flavour)
In a food processor, mix the egg yolks, dijon mustard, vinegar, lemon juice, salt and garlic together. The mixture should be smooth and pale.
With the food processor running, slowly drizzle in the oil until the mixture is thick and pale. Taste to see if it needs anything, maybe some more lemon or more salt?
Serve straight away or transfer into a sterilised jar and refrigerate. The mayo will last 1-2 weeks in air tight container in the fridge.
5 Comments to