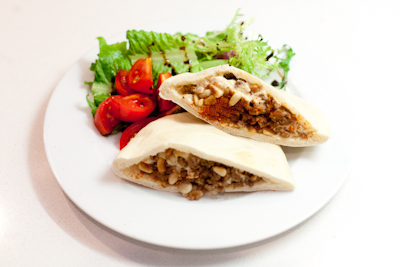 Allow me to introduce LadyRaven of 'Add to Taste' fame and her delicious Hummus Im Basar.
I first met LadyRaven at last years Organics Fair while she was manning (or is that ladying) Oded's Kitchen stall, though we had by this time communicated over Twitter.
She has tirelessly tried to bring the foodie community together with her ornate TWTvite skills and monthly Sushi Club endeavors.
I'm honoured to call her a friend and most grateful she was willing to share this recipe with me.
Ingredients:
Serves 4
Hummus Im Basar
4 Pitas
500g Lamb Mince
1 tbsp Cummin
1 tbsp Cayene Pepper
2 tbsp Paprika
Pine Nuts
Olive Oil
Method: Mix the spices into the lamb and cook in a well oiled hot pan on high heat, until browned.
Pre heat your oven at 180 degree celsius and then turn it off, pop into the pitas will warmed, turning the oven off will warm them without drying them out. Add the mice & hummus to the pitas and top with roasted pine nuts.
Hummus Im Basar
Hummus:
2 cups of Chickpeas (preferably hydrated, but a tin will do in a pinch)
175g of Tahini Paste
Water
Salt
Pepper
Method: Blend chickpeas with some tahini paste, water to loosen, salt and pepper to taste and garlic to your heart's desire.
Tahina:
Tahina paste
Water
Lemon Juice
Garlic
Method: You don't even need a food processor for this one, so no excuses. Mix together tahini paste with some water, a little bit at a time till the colour changes and it becomes runny, add some lemon juice and garlic to taste and then some salt to finish it off.
I served mine with a light green salad, homegrown tomatoes and a balsamic vinegar reduction.