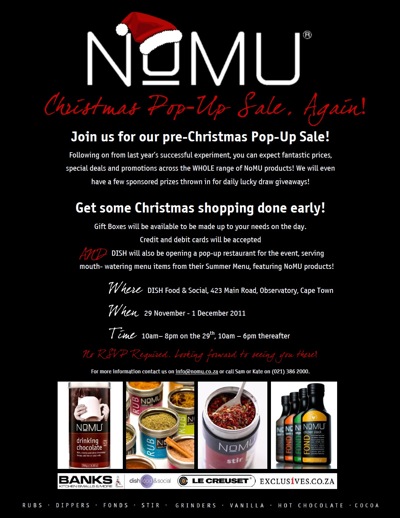 Okay so there isn't much more I can say about the fine folks at NOMU that I've not shared already.
As you've read here and on Twitter, countless times my infatuation runs the gamut from their stirs through to their new(ish) drinking chocolate, but most of all their Fond fondy goodness (stocks me warned!).
So it's with great excitement I let you in on a little secret, they are running a pre Christmas pop-up sale, again, following on from the tradition that was founded last year, though this year it will be extended by 2 days.
So come 29th November through 1st December 2011 you'll be able to pick up amazing deals from their pop-up shop at Dish Food & Social, 423 Main Rd, Observatory, Cape Town from 10am-8pm on the 29th and 10am-6pm thereafter.
If that wasn't enough they will be throwing in a couple gift hampers as spot prizes (because they are awesome!).
Credit cards and cash accepted, but come hungry as Dish Food will also be serving items off their new Summer menu!
I missed it last year due to an ailing son, but come hell or high water nothing will keep me back again!